Please visit our Support page to leave your message.
All message posters have given permission for their message to be published.
The opinions expressed here are of course those of the individual posters.
—
Dear Jeff and Robecca,
Would it be possible to send a message to the "Jeff NEEDS Justice" group. Us "old aunts" feel we owe a debt of gratitude to them for doing all the hard work necessary to overturn the conviction.
A big thank you to the group for all the work you all put into researching the 2 trials and digging up the new evidence resulting in the overturning of Jeff's conviction.  It's such a load off our minds to know that Jeff is back where he belongs with his family.
- Aunties Clare, Roslyn, Leah and Jean
(Original hand-written letter)
—
I was one of the character witnesses for Jeff at both his trials (and provided a written character witness for the manslaughter trial in 1995). I also worked with him for a number of years both when we were working for a private consultant, as well as with the RTA. I absolutely believe in Jeff's innocence. I was disappointed when the prosecution failed to ask in the second about the written statement for the 1995 trial as it was most positive, and I wasn't nervous when I wrote it. Totally different when I was in the witness box! I was devastated when the jury found him guilty after such a long period of deliberation, as I was convinced that even with the prosecution's mistakes that Jeff would be found innocent. I will continue to long for Jeff to come home to family and friends.
- Michelle
—
Dear Robecca, You have had a long hard road to follow since Jeff was convicted, one that not many of us would have the character to live with. Having worked with you I know that you are a lovely person, diligent and reasonable but having seen the recent TV programme and discovering the immense battle for justice you have embarked on realise that your fight for justice has tempered you with a steely determination and I admire you very much for that. Now that the day of the appeal has arrived I sincerely hope that justice will prevail and Jeff will be restored to you in the near future.
- Elaine
—
I worked with Jeff at the RTA for a number of years. I was the General Manager of the branch in which Jeff was one of my very valued Project Managers. I always found Jeff to be very diligent, reliable, hard working and honest. He is a man of high moral values, and undertook his work with these characteristics. Jeff was always pleasant to deal with and had a good sense of humour. Knowing Jeff as I have, I just cannot believe that he could be guilty as found. I hope very much that the appeal will deal with the facts, the careless handling of evidence and return him quickly to his loyal and devoted Robecca & his 3 lovely girls.
- Ray
—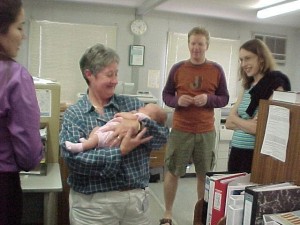 I have worked for the RTA for over 38 years and have been a close colleague of Jeff's since1999, when he started working with our team at the RTA. In my opinion, Jeff is a very down to earth, considerate and a very genuine man. Jeff's personality was always upbeat, witty and cheerful and my observations were that Jeff really enjoyed his work as a project manager on major RTA's road projects and the challengers this brought. Jeff loved to share stories of his house renovation and his little girls and the funny things they did.
Jeff, to me, has a very caring nature, and I have never seen any unprofessional or malice behaviour in all the time I have known Jeff. He has always behaved in a dignified manner, even with so many negative comments, during this horrible time, as far as I am concerned, are all totally baseless and false.
Jeff, in particular, enjoyed working with his team, encouraging and mentoring young engineers. In my observations he treated all he came in contact with, with respect. It is also important to note that Jeff's dad (Stephen) worked for the RTA for 30 years and from speaking to people who worked with Stephen, Jeff and his father share a similar caring nature.
Jeff's family is paramount to him and he belongs back with them to share and care for them. I have never doubted Jeff's innocence and regularly visit Jeff over the past three years.
I have never waived of Jeff's innocence and Jeff has my staunch support and I am part of Jeff's support group.
Jeff needs Justice now and be back with his wonderful wife Robecca and his adorable little girls and all his family and friends who love and respect him.
- Donna
—
Dear Rebecca, It scares me as a wife and mother to see how life can go so wrong for people who are caring, loving, enjoying their life, family and children and for this all to be suddenly taken away on somebody else's whim or motivated 'instinct'. So very wrong. I admire your strength, will and fight for justice. I also admire the people who obviously surround you and your girls that join you in your struggle to bring your husband and dad home to his family. How dare people outside your core family and friends influence such a drastic outcome, we only have one life, my god, how dare they, for what??…what is their motivation, that is the question that should be asked.  Undoubtedly, you, your family and your supporters have the patience, will and strength to see this through. Our thoughts are with you for the end of November and we hope to see the 'wrongs righted'…continute to be strong, hugging the kids tight and surrounding yourself with those most important to you. Xx
- Jacqui
—
Absolutely jaw dropping!! OMG, just watched my taped program of oz story, and I was totally shocked by what I was watching. I believe, that Jeff is innocent, as one of the other people have commented how, can a person hide behind a facade for so long. Rebecca, and your support team, I have nothing but admiration and my heart goes out to you. Please stay strong, so Jeff can be freed as he should be. What a fantastic piece of detective work you are all doing.
- Colleen
—
The other posts have put your plight into words so well, but I just wanted to add myself as officially convinced Jeff is innocent.
Here's hoping Jeff will soon be returned to his family and can put this nonsense behind him.
- Louise
—
Hello Robecca and Family
What a traumatic time you have all been through, my heart goes out to you and the girls. I don't know Jeff although I have met him once at the house of a relative that is close to Jeff. What I have seen both in the movie and Australian Story convinces me with that 'gut feeling' that he is indeed innocent. The most compelling thing for me however is the fact that my cousin and his wife, who know Jeff well, are convinced of his innoncence. I know they are excellent judges of character and if they are convinced, which they undoubtedly are, then that is good enough for me. Maybe not scientific or analytical but for me, it leaves no reasonable doubt. The very best wishes to you and your family and I hope you are soon to be a reunited family unit.
- Leanne
—
I was really moved by your story on Australian story. I really hope justice prevails and you are re-united with your family soon Jeff. To all who are supporting this case, keep strong and don't give up. Peace.
- Natalie
—
I have just seen the Australian Story & have been gripped by this case. Your honest transparency has left me in no doubt that Jeff is innocent of his parents murders. A terrible time for you all, but good on you for being so faithful to him and working so hard. Jesus Christ is the ultimate refuge for grief of this kind, both in this life and life beyond death. May you put your faith in Him during this ordeal and know the One who absolutely satisfies. We will be watching with interest and praying for you all.
- Annie
—
I have just now, watched the Australian Story episode, as my mum and dad had told me about his struggle only a few days ago. I was really quite intrigued, so watched it on iview, only moments ago. I had never heard of this case before, as i was quite young in the 90′s, and have been living abroad these past few years. This story really touched me, and i became quite emotional whilst watching it. Tears, fell from my eyes, as I watched jeff's wife, in the closing of the episode, struggling to come to terms with the fact that her husband, and father of her children, had to spend two life sentences behind bars, for a crime, that I am sure he did not commit. I feel so sorry for this poor family. For Jeffs wife and three young girls, this whole ordeal must be so difficult to live through, and i can't even imagine what it must be like. I don't know if Jeff is innocent or not – i guess the only person who knows this fact is Jeff. But from watching 'Bad Blood' and weighing up all of the evidence that was not properly shown or investigated, I believe jeff needs another fair trial. For a jury to be hung and then, spend 8 and a half days deliberating on a verdict, seems really really wrong and if they were so undecided, so unfair for a man, husband and father to spend the rest of his days in a prison cell. I don't know much about the legal system, nor do I know much about the Gilham family. But I have such a strong feeling in my gut, that this man needs a fairer trial. I personally don't believe he killed his parents. There doesn't seem to be motive enough. And With such evidence as the amount of carbon monoxide in the brothers lungs, the fingerprint on the intercom, and the fact that the other brother was having troubles with the parents in the weeks leading up to the murder, I feel as though Jeff Gilham, should not be serving two life sentences in a prison, where Ivan Milat is spending the rest of his days!!! I wish all the best of luck to Jeff's family and friends. I think its amazing that he has such a strong support network behind him and I am certain, that with a fair trial, a jury should not…and can not prove him guilty, when evidence supports his story so strongly. Ill be thinking of you, as time goes on. I hope to read in the papers, in the near future, of Jeff's innocence, and freedom from prison.
- Elizabeth
—
Jeff is innocent. I find it abhorrent that his name has been thrown around and the media have run with the story of his guilt.  Have faith in the system… if it wasn't for one man championing for his guilt, Jeff would still be living an innocent life. There is an answer simply in that. Good luck to your team and Robecca for the upcoming Appeal. May justice truly prevail and Jeff be free.
- JJ
—
To Jeff and Rebecca. I truly wish you both love and support. I do hope that one day i will see you both again on Australian story in much happier times, I look forward to the love and laughter and maybe even Jeff manning the BBQ with your wonderful friends all around! My thought will be with you for your appeal, stay strong Jeff your very well loved and adored.
- Tina
—
Having watched the two Australian Story episodes I am not sure what to believe but I feel there is too much doubt about what happened that night to keep Jeff in jail. At the time I read the book which was published about the case and followed the trials. The media coverage at the time made Jeff appear guilty. Obviously there is a lot of information which was not brought up in the trial. I hope the truth comes out and best of luck for the future to the family.
- Susie
—
Robecca, your girls are truly blessed to have such a fantastic mum to show them such love, devotion and strength. Australian story only reinforced the injustices that have been done. Hopefully justice will be done and Jeff will be with his family & friends soon.
- Colin
—
After watching Australian Story and being moved to tears that this team of professional people have managed over time and clearly with a lot of hard work, blood, Sweat and tears to prove without a doubt that Jeff is innocent… I am touched, moved, and inspire by the evidence you have brought to light.. hang in there Jeff.. you will be home with your beautiful wife and three daughters soon.
- Tracey
—
I sat down to watch Australian Story a couple of weeks without firm opinions about Jeff's guilt, although I did think the odds that Jeff was guilty was more probable than not, based on my belief that the justice system gets it right more often that it gets it wrong. I was very quickly appalled at what I was hearing and seeing – it is clear that a miscarriage of justice has occurred. You are a credible team, and Rebecca, you are to be commended for your ability to deal with such an emotionally charged matter in such a clear headed rational way. You have amassed some terrific evidence that should not be overlooked again. I wish you and Jeff all the best as you prepare for the appeal. I will be praying that justice is done and that Jeff is reunited with his family very soon.
- Lea-Anne
—
Dear Rebecca, It scares me as a wife and mother to see how life can go so wrong for people who are caring, loving, enjoying their life, family and children and for this all to be suddenly taken away on somebody else's whim or motivated 'instinct'. So very wrong. I admire your strength, will and fight for justice. I also admire the people who obviously surround you and your girls that join you in your struggle to bring your husband and dad home to his family. How dare people outside your core family and friends influence such a drastic outcome, we only have one life, my god, how dare they, for what??…what is their motivation, that is the question that should be asked.  Undoubtedly, you, your family and your supporters have the patience, will and strength to see this through. Our thoughts are with you for the end of November and we hope to see the 'wrongs righted'…continute to be strong, hugging the kids tight and surrounding yourself with those most important to you. Xx
- Jacqui
—
Sometimes it's just so obvious to piece together a story – even if you don't know the people personally. No one can gather life long friends, respect from your family and work colleagues and the true love of a beautiful wife … and hide behind a facade of being someone else. It's just so incredibly obvious that Jeff is innocent. Thank you Australian Story for bringing both sides of this story to our attention. I'm sure I am like many people who will be praying for justice to prevail and for Jeff to be brought home to his beautiful family very soon.
- Robin
—
I am supporting Jeff on the basis of evidence as well as there has clearly been a miscarriage of justice.
- Scales of Justice Need Cleaning
—
To Jeff and his family I deeply hope you get justice.. why is our judicial system so incompetent? I have never written or taken the time before to look into something and given my support, but after seeing the program on abc I felt compelled, good luck.
- Rosemary
—
After watching Australian Story, it's extraordinary to see Rebecca's incredible courage as a wife and mother, and the generosity of the community around her. It's difficult to believe that Jeff was convicted on such dubious evidence. Good luck with the appeal, I will be following it closely and sending you all much good luck and good will.
- Ros
—
As an ex Court Reporter of many years I watched, with interest, the two episodes of Australian Story with my husband. Foreniscs are crucial and you certainly have some very "switched on" individuals supporting you. We genuinely believe in Jeff's innocence but, regardless of our own opinion, the phrase 'reasonable doubt' looms large. A hung jury, a jury out for 8 days – my God! I am sure everyone would appreciate the fact that a jury out for 8 days is evidence enough that their decision did not come easily, which begs the question – which juror/jurors 'caved in' perhaps because they just wanted to get out of that jury room and go home! We wish you all the best with the Appeal.
- Tanya
—
Have just watched the second part of the Australian Story. I am not prepared to say whether Jeff is innocent or not but I agree with his supporters there has been a terrible miscarriage of justice. From the moment the police lost & damaged key evidence, it became impossible for a trial to be in anyway fair & impossible for his guilt to be proved beyond reasonable doubt. This should never have gone to trial.
I shall be praying the appeal is upheld.
- Roslyn
—
I have just finished watching parts 1 & 2 of Austory. I believe very much in Jeff's innocence.  I wish Jeff & Robecca all the very best for a successful appeal, and hope very much that the matter can finally rest with Jeff's release.
- Michelle
—
Jeff and Robecca you have my absolute love and support, what an absolute travesty of justice. I can't imagine the torture you both and your family and friends have been through over the past 15 years. I believe in both of you and that the incredible support network you have and hope that you will be together again as a family. Have faith, and don't ever stop fighting. You have support from all over Australia, we are behind you.
- Jane
—
Seeing Australian Story was highly enlightening. I wish you all the best and I keep my fingers crossed that the Supreme Court overturns the original verdict. Jeff my heart goes out to you and your family. You have been through too much for one person.
- Kerryn
—
I have just watched the 'Australian Story' piece about Jeff and my heart goes out to Jeff and Robecca and their family. All who spoke in Jeff's defence had credibility and clearly were deeply moved by what has happened.  I truly hope that Jeff is found to be not guilty and returned to his family as soon as possible.
- Angela
—
After following the events on Australian Story, I felt compelled to offer you and your family my support. This is a terrible miscarriage of justice. I hope the Appeal process will be swift in overturning this unjust verdict and you and your family will be out of this nightmare very soon. Stay strong Robecca, you are an incredible mother, wife and lady. Thank you for bringing this to the attention of the nation.
- Natasha
—
I lend all my support to the Jeff NEEDS Justice team after watching your two very compelling episodes of Australian Story. As a law graduate, I understand how difficult the rules of evidence can operate within our state and how justice has clearly been denied to Jeff and his family. I pray for a positive outcome in the appeal case and acquittal for Jeff from all charges.
-  Jessica Rose
(Editor's note: Thanks Jessica Rose for your message of support.  All messages are appreciated.
Just to clarify, the Australian Story program included interviews with members of Jeff NEEDS Justice, but they are not 'our episodes' as such.  The program production was entirely the work of the ABC team, who are of course independent of us.  We didn't get to see any of the filmed interviews or other footage before any other regular viewers…!)
—
My heart goes out to your lovely children. In life sometimes our value can be based on the relationships that we have the good fortune to rely on. With all the people who are supporting this family its hard to not believe that they are right in this fight for justice. I shall watch closely the outcome of the trial in November and I wish you all the strength that you will need to get through that time. As for day to day, from one mother to another, stay strong you seem to doing as much as you can under these circumstances and no-one should ask of you anymore. Good Luck.
- Kelly
—
Dear God, I watched Australian Story tonight and could not believe what I was seeing! This man is as innocent as they come. I believe that he will one day be free from his current hell, and return to his beautiful wife and children. To you Robecca, what a courageous woman you are – I admire you, I pity you, I respect you! I support you! You need to keep fighting for your husbands freedom, don't ever stop. May justice prevail.
- Nessa
—
I just watched part 1 of Australian Story. I don't know you guys but I believe Jeff is innocent of killing his parents based on the facts of the case. Hang in there, the truth will eventually come out. In these types of cases, while it may take time, it will eventually work itself out.
- Peta
—
I am an old family friend of Jeff's. Our parents use to socialise together, and went to each others kids 21st, weddings etc. I have fond memories of going to their place and going down to the rivers edge to play. I'll never forget seeing Steve and Helen's photo on the news report about their death. I was then pregnant with my first baby, who is now 17 years old. And neither will I forget the funeral of Steve, Helen and Chris. I couldn't imagine what it would be like to go through what Jeff went through, and followed his progress via my parents, Marie and Rod. When I heard of the guilty verdict, I was devastated and grief stricken. Again I couldn't begin to imagine how Jeff or Robecca could cope with this. I had thoughts of contacting Jeff at that time by sending him a letter, but could not find the words. I really appreciate this website and the opportunity to voice my sorrow at what has happened to Jeff and Robecca. And to offer my support. I have had a quick look at the website and I think it is fantastic. Jeff, you have been in my thoughts for 17 years, and since the guilty verdict, with great sadness. I think you have behaved with great dignity and incredible courage. Good luck with the appeal and hoping the truth prevails.
- Nyrie
—

Jeff has our absolute love and support. We can't imagine what it would be like to be locked up away from your family for a crime that you did not commit. It is a tragedy that he has been caught up in such a devastating situation and we hope and pray that the legal system will not let him down in the end. He is a great friend and loving and caring husband and dad. We are beside him all the way.
- John and Jen
—
Jeff, This conviction is another instance of trial by media. I believe that you are innocent of the crimes that you were convicted for and that your name will be cleared.
- Derek
—
Robecca, I just hope the Justice System redeems itself and you can enjoy the next birthday with Jeff at home. JeffNeedsJustice team – thank you so much for all the hard work you are doing. There are many of Jeff's supporters who appreciate your efforts to return Jeff to his family. Jeff – your strength to stay positive in the midst of this tragedy is amazing. Can't wait to see you back with your family where you belong.
- Tim Jarrett (Jeff's cousin)
—
Dear Jeff, Robecca, your daughters and supportive family,
As a member of the community, I watched the telemovie "Blood Brothers" last night and from the sadness felt in relation to the entire tragedy, I sought extra information in relation to the case and came across this website. Simply, I want to extend my support in this message to you all based on empathy, as well as, heartfelt sadness. I truly prayer and hope that Jeff's appeal will result in him being reunited with Robecca and their daughters. With sincere and heartfelt thoughts to you all,
- Nat
—
I am Robecca Gilham's father. Some might see my daughter as an emotionally devoted wife desperately trying to save her husband from a life in prison. Only part of that is true. Yes, she is a devoted wife and yes she does want to bring her family back together of course, that is only natural. But, in terms of dealing with the unjust incarceration of her husband on an emotional basis, there is nothing further from the truth. Robecca deals in science and facts, her Grandfather was a world renowned scientist, Robecca is an academically and "street wise " extremely well qualified engineer and manager; she only believes what can be tested and proven by the scientific process. She is a woman of extremely high moral values and great persistence. She is very much the champion of equity and justice.
In the case of Jeffery Gilham justice has been an Ass (as they say). It is also quite clear that the scientific process in dealing with evidence has also been made an ass. Science has given way to contaminated process, methodology and thinking. No wonder then that the jury made the decision it did. The evidence was flawed in several ways and would lead anyone to a false and unjust conclusion.
It is interesting to note that the telemovie "Blood Brothers" has also failed the purity of the moral and scientific high ground. Surely any movie purported to relate to Jeffery Gilham must, if it seeks Truth, consult with my daughter.
I have great faith in the Australian Judicial system and the judges and magistrates within that system if those who serve them do their work well. Unfortunately in Jeff's case there have been far too many misadventures of evidence, legal argument and immorality for any Judge or Jury to facilitate justice. The political environment seems to have reacted to the emotion of a few and the entire process of truth has been traded in for shoddy scientific process and poor legal groundwork within a volatile and non objective background of political self interest.
There will be many so called professionals and others embarrassed when the Truth is established through proper method.
—
I believe in Jeff, without a doubt. I had the pleasure of working with Jeff and he was the most amazing project manager around. Won't forget the Monday morning realising he wasn't going to appear in the office; share a joke in the kitchen about his girls, steal that last biscuit in the jar that everyone leaves behind, inspire his graduate engineers with hard work and strategic problem solving …
Devastated. He is innocent. There is no murderer hiding in that, no way it is an act. The best boss I'd had, great at what he does, inspiring to everyone who worked with him. See you soon Jeff! You are coming home!!
- Deb
—