About Jeff NEEDS Justice
This site is published by supporters of Jeff Gilham, who has been wrongly convicted of the murder of his parents Helen and Steve.
Jeff Gilham is innocent.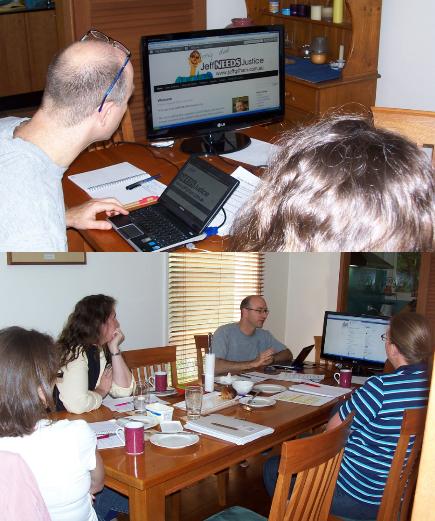 The Jeff NEEDS Justice team is committed to seeing his wrongful conviction overturned and his name cleared.
Our aim is to bring Jeff home to his young family and return him to his productive life in our community.
You can follow our news of the case here, and/or subscribe for updates to be sent to your email address (use the Subscribe box in the side column).
About Our Banner
The drawing of "my dad" was made a few years ago by Robecca and Jeff's eldest daughter, who simply wanted to do something to help. Her contribution to our cause moved us so much that we decided to put it at the top of all of our messages.
The Jeff NEEDS Justice Team
Robecca Gilham
Robecca Gilham is married to Jeff Gilham. Together they have three young daughters, who have been denied the experience of growing up with their Dad as a part of their daily lives.
Robecca has known Jeff since 1990 when they first met studying civil engineering at the University of Technology, Sydney. She describes Jeff as a loving husband and a committed father who, while pursuing his own education and career in engineering, has also supported the development of her own full time professional career in engineering and part time post-graduate study.
Robecca now works full time as an Engineering Consultant, is raising their three daughters, and is leading the campaign to have her husband's wrongful conviction overturned. She is an inspiration to the members and supporters of the Jeff NEEDS Justice team.
I do not accept that it is possible for such a loving husband and father to commit these crimes and live a blameless life, both before and after - Robecca Gilham.
Jill Gatland
Jill Gatland is a solicitor and a family friend of Jeff and Robecca.  She has known the family for more than eight years. Over this period she had observed at close quarters Jeff's loving and engaging parenting style and his utter selflessness and commitment to his family.   She is committed to ensuring that Jeff  receives justice and is returned to his family as soon as possible.
There may be times when we are powerless to prevent injustice, but there must never be a time when we fail to protest - Elie Wiesel.
Sonya Nolan
Employed in the travel industry, Sonya is married to Wayne Nolan.  Wayne and Jeff have been friends since high school and were best man at each other's weddings.  Sonya met Jeff in 1993 and Robecca in the mid 1990s.  After the horrific trauma of losing his family, Sonya saw Jeff slowly rebuild his life to become a fully functioning, contributing member of society with a career as a civil engineer and a loving father to a three adoring daughters — only to see him have it all taken away from him a second time, this time by the courts.
Injustice anywhere is a threat to justice everywhere – Martin Luther King, Jr.
Aaron Le Clerc
Aaron works as an Air Traffic Controller and is active in his local Church and Scout Group. He is married to Vanessa and they have a young family. Aaron has been Jeff's friend since 1981 and they were mates both in Primary and High School. He has many fond memories of his time spent growing up with Jeff and the Gilham family. Aaron and Jeff were groomsmen at each other's weddings and have continued their friendship that now encompasses their families. Aaron believes in Jeff's innocence and will continue to stand by Jeff and Robecca in order to overturn the injustice that has occurred and re-unite Jeff with his adoring family.
Vanessa Le Clerc
Vanessa has known Jeff for 20 years through her husband Aaron. Vanessa has had previous employment in the travel industry and now cares for their three busy children.
Over the years Aaron and Vanessa have shared many memorable times catching up with Jeff's wide circle of friends and enjoying his friendship. In 1994, Jeff was a groomsman at their wedding. Vanessa met Robecca in the late 1990's and feels privileged to have her as a friend.
Jeff's strength of character to be the person he is today as a husband and father is an inspiration to Vanessa. She believes that Jeff has been wrongfully convicted and that Jeff needs justice.
Paul Mackie
Paul has been a friend of Robecca and Jeff for about 15 years. He has a degree in biomedical science from the University of Technology, Sydney, and a postgrad qualification in physiology from the University of New South Wales.
Paul is committed to the goal of seeing the mistakes of the past corrected and justice restored to an innocent man and his family.
I don't think a lot of people realise how important innocence is to innocent people – Michael Chamberlain.
Paula Mackie
Paula went to high school with Robecca and they have been friends ever since. Paula has a science degree from the University of New South Wales, and a graduate diploma from the University of Melbourne. Paula, along with husband Paul, has always enjoyed Jeff 's company and found him to be an honest and caring friend. Paula would like to see Jeff home with his family where he belongs.
Nothing is to be preferred before justice – Socrates.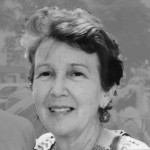 Claire Jarrett
My name is Claire and I am Jeff's aunt, his mother Helen's sister. It was said by the prosecution that I would "do anything to save what is left of Helen's family". That is true only because I believe that Jeff is innocent. Jeff needs justice.

Carolyn Petty
Carolyn has known Jeff and Robecca for 9 years. She is a full-time mum to three boys and previously practised as an Occupational Therapist. Carolyn is married to Scott, a Christian youth minister, and
both she and her husband are actively involved in their local church and community.
Carolyn and Scott have been good friends with Jeff and Robecca and their beautiful girls since meeting through Mother's Group. They are convinced that Jeff is innocent not only because he is a good friend and doting husband and father, but because they have, alongside the JNJ group, looked at the evidence surrounding the case. They are convinced that a grave injustice has been done and will stand by them until Jeff is released and returns home.